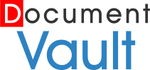 Document Vault Business Data Room
As far as data room providers go, Document Vault is not one of the biggest. It's a moderately-sized company based in London, and it has been around since 2017. However, it is not in any way an inferior or cheap virtual data room solution. On the contrary, Document Vault is an excellent alternative for companies or governmental bodies with smaller teams and fewer data needs. Following high-level security protocols, Document Vault is mainly employed by law companies performing due diligence for mergers and acquisitions, serving as well as a secure repository for corporate archives. Document Vault deploys advanced 256-SSL encryption to ensure a perfectly secure environment for their client's data. Among its most useful features, users can access a data trail of all the access and interactions with files across the platform, allowing full control of the work environment.
Proof of this is the wide range of clients who benefit from its data rooms — including law firms, real estate agencies, investment banks, and local government institutions. Although Document Vault is only based in the UK, companies from all over the globe feature in its list of clients.
To these and others, the Document Vault platform offers a solid toolkit that includes all of the essential resources we have come to expect of a data room worth its salt. These include security features (such as data encryption, file access control, and an audit trail for viewed and downloaded files), document management features (such as file indexing and editing), and collaboration features — comments, notifications, and the like.
While Document Vault does not offer 24/7 live assistance, its support team is only a phone call or an email away during London business hours. For companies looking to move and organize large amounts of data into their newly-acquired data room, Document Vault offers setup support, which includes live assistance. Clients can have their data room up and running within a few hours of having subscribed to the platform, as Document Vault offers help for same-day VDR setup.
Because it's web-based, Document Vault can be accessed from any device with an internet connection and a browser. However, the lack of dedicated apps for PCs and mobile devices can be an issue for major companies with an elevated number of users — as can be the lack of single sign-on login, and other security steps such as 2-step verification. Customization options are notably absent, too — no customized dashboard, watermarks, or other such options offered by bigger names in the VDR industry.
The Document Vault software offers flexible pricing, with four data room tiers ranging from up to five users and 1 GB of data usage, in its most modest plan, to an unlimited number of users and up to 50 GB of data usage — enough for even the largest of M&A transactions. Users can also request a free trial in order to test out the platform and determine if it's a fit.
Document Vault is on the lower spectrum of VDR sophistication. But then again, while it lacks many of the extra features offered by its competitors, it delivers what it sets out to offer: a no-frills, get-the-job-done kind of platform.
Features Checklist:
Industry Solutions
| | |
| --- | --- |
| Law Firms | yes |
| M&A | yes |
| Investment brokers | yes |
| Insurance | yes |
| Real Estate | yes |
| Government Agencies | yes |
| Oil & Gas | yes |
Access Security
| | |
| --- | --- |
| Define User Groups | yes |
| Define Permissions | yes |
| Full Disclosure | yes |
| Information Request Centre | yes |
| 2-factor authentication User Access | yes |