iDeals Virtual Data Room
Description of iDeals
When it comes to managing complex deals and transactions, it's important to use the right technology to stay ahead. Using virtual data room software will facilitate your deal throughout the whole deal lifecycle, during any stage, and ensure frictionless communication between all parties involved.
Complex transactions like mergers and acquisitions are usually document-heavy which means hundreds of files should be reviewed and processed. iDeals offers a powerful business solution that serves as a great tool for professionals dealing with transactions that require quick decisions and fast reviews.
No matter what business you're in, you'll be able to use the many collaboration and customization tools to complete all types of transactions, due diligence, and pretty much anything else your project requires.
The high-level security measures supplied by the iDeals virtual data room go above and beyond those offered by other data rooms, ensuring everything you upload into the data room is safe.
iDeals virtual data room has built a reputation as a leading provider of virtual data room services since its launch in 2008. Professionals from a number of industries, including investment banking, real estate, biotech licensing, and a variety of others, trust the iDeals data room. For experts in investment banking, legal, and top-level management, the virtual data room iDeals has proven to be the perfect cloud-based solution.
The iDeals VDR contains a Q&A area to aid collaboration, making it simple for participants to connect with one another in a secure manner. All of your communications are kept private and are saved in the data room in case they need to be reviewed.
The drag-and-drop feature of the iDeals virtual data room makes it easier to add documents to the platform, and once uploaded, the documents are instantly watermarked and indexed.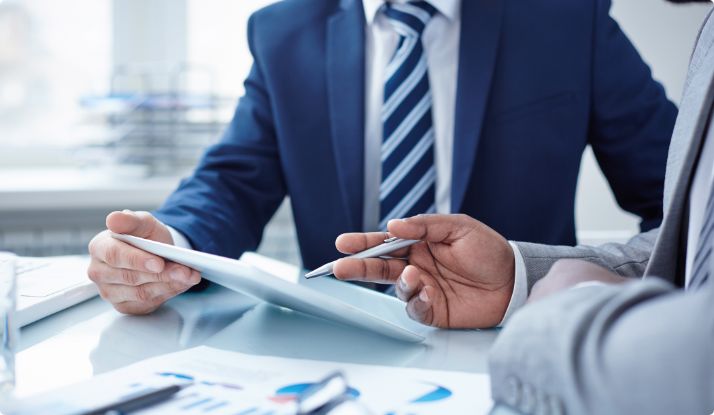 Features of iDeals
IDeals offers a wide variety of features, which are suitable for managing different types of projects, deals, and transactions. These include the following:
Files and folders management
For simple uploads, use the drag-and-drop tool. You can also upload or sync files from your local drive or online storage in bulk. For improved organization and security, there are indexing, watermarking, and numbering functions.
Document management is another aspect where iDeals shows its excellency. Its data room has a simple drag-and-drop interface that allows you to easily upload your documents into the system. You have no limit on how many documents you can upload to the data room. All files are automatically numbered.
Customers can upload many documents at once or in bulk, which makes the procedure quick and painless. With support for over 25 different file types, as well as automatic numbering and indexing, you won't have to spend any more time preparing your papers than is strictly necessary.
File protection and Digital Rights Management (DRM)
Security is a non-negotiable aspect of today's leading virtual data rooms on the market. By having a multitude of accomplished protocols, iDeals is known as a premium provider for secure document sharing. Certifications and compliances of the iDeals data room provider include GDPR, HIPAA, SOC 1, OWASP, and others.
You may use the document rights management tools to control which files a user can read, print, or download. Watermarks are used to safeguard all papers, and the "fence view" function reduces the possibility of camera-based attacks on important excel files.
256-bit encryption and two-step authentication are key components of the platform's robust security features. Some other features include a strict access policy and surveillance, dynamic watermarks, and audit logs.
Data hosting and infrastructure security
The provider uses data centers that are SOC2 compliant and ISO 27001 certified. There is 99.9% Uptime Guarantee, automatic virus scanning, and data backup.
Access security
Role assignment, setting access limits, and a range of document permissions are among the user management tools. On a page-by-page basis, iDeals allows you to observe how much time customers spent examining specific papers.
Accessibility and ease of use
It takes only 15 minutes to set up the data room. It's really simple to use and requires no additional training. Its user interface is both extensive and easy to use. The iDeals platform allows you to set up data rooms in as little as twenty minutes, and you don't need much technical knowledge to use it.
iDeals virtual data rooms offer an intuitive, simple interface, and you wouldn't need to download any additional Java plugins just to get access to your documents. The user interface of the iDeals data room has been optimized to match buyer requests list and offer the best viewing experience on all connected devices.
You can access and manage virtual data rooms with ease in different languages the platform supports — including English, Spanish, Chinese, Japanese, German, Turkish, French, Dutch, Korean, Russian, and others.
Search, OCR, and filters
You can use full-text search, Optical Character Recognition, and filters to navigate your files faster and easier. This allows you to find requested files in just a few clicks and react quickly to any document request.
Collaboration features
You can interact with your team members directly in the document with this functionality. By including an FAQ area for users, you may also build a list of frequently asked questions and answers. All communication is stored, allowing you to keep detailed records for legal needs. The room administrator can also control who can ask questions and who can see the Q&A part using settings.
One of the most significant aspects of the iDeals software is its Q&A section, which allows users to construct a list of the most frequently asked questions and keep it on hand at all times. iDeals virtual data room also creates detailed Q&A reports that can be retained for future legal needs.
Activity tracking and reporting
You can keep track of everything that happens in the data room, which speeds up decision-making during crucial transactions. The iDeals virtual data room software provides audit trails that allow you to keep track of all data room activity and monitor corporate compliance.
You can also utilize this functionality to track each user's behavior, including their search history. Every document read, printed, and downloaded on iDeals may be traced. Furthermore, you can observe how long someone has been browsing a document.
A whitepaper explaining the process of using a VDR for an M&A transaction, as well as a guide on using the platform's redaction tool, can be found on the company's website.
Customization
You can easily customize the dashboard, on-site and online training sessions for invited users.
Support and services
Support is provided 24/7, with an average response time of 15 minutes to resolve any data room issues quickly. You may also look up frequently asked questions and recommended practices for using the VDR available in the online support center.
You can get email support or have a chat with a live rep of the company.
Deployment options
Most platforms, including browser access, Mac, Windows, Linux, iOS, and Android, are supported by the iDeals data room. The iDeals virtual data room is accessible from any browser and all mobile devices and comes with enhanced security and encryption capabilities.
Trial and pricing
iDeals virtual data room provider offers a 30-day trial. There are two different pricing options available: a fixed structure and a subscription, so you can choose what suits your budget better.
iDeals is a sophisticated cloud-based data room solution that enables sharing and collaborating on sensitive and business-critical documents easier. Most data room providers offer comparable product features, however, it's usually not enough for modern business challenges.
The main benefits of using the iDeals data room
Due to a great variety of features, iDeals makes it easy to manage complex financial transactions, due diligence, and other ongoing transactions. That's why professionals from industries such as real estate, law, and banking choose this provider.
The main advantages that iDeals virtual data room software provides its users include the following:
Ease of use. iDeals software may be used by the entire team quickly and effortlessly. It can be quickly installed, but it can also be efficiently used and adjusted to meet changing needs. Uploading and organizing files are straightforward. 14 language interface, Android and iOS apps, and mobile-friendly layout, which is also great for view-only users without the app make the user experience better.
24/7 customer support. An excellent customer support team that responds quickly when it's needed. Support is available in 12 languages, and issues are resolved through a single point of contact.
User-friendly interface. With a clear interface, managing and sharing your files is as simple as it could be. Popular usability features include bulk, drag-and-drop upload, automatic index numbering, and file labeling.
Flexible billing plans. iDeals virtual data room pricing suits every budget, as it offers both fixed and subscription-based pricing plans.
Useful reports and insights. As the data room admin, you have access to every user activity and interaction with the virtual data room, including file views, downloads, time spent viewing the file, etc.
Advanced data protection. The best security practices combined with two-factor authentication, access permissions, file expiration, and remote shredding make iDeals a reliable vendor. Admins can assign user permissions and have full control over the shared documents.
Minimum paperwork. With virtual data rooms, you can forget about piles of papers being unorganized and lost. With document indexing and quick keyword search, you'll be able to find the needed file in just a few seconds.
Increased chances of successful deal. With the combination of unique management, collaboration, and security features you will be able to close deals faster and more efficiently.
iDeals combines functionality and refinement. It doesn't require any technical knowledge to use, but it does provide experienced users with dozens of time-saving features for accessible and seamless sharing, all while emphasizing privacy.
iDeals is one of the most popular virtual data room suppliers on the market. Apart from its excellent feature set, the solution is backed by a team dedicated to providing the greatest data room money can buy.
Features Checklist: